A global faculty serving the Lexington community
Bluegrass Ceili Academy's teaching staff spans the globe, with dancers and educators who have shared their love for dance with students around the world.
Academy director and fifth generation Lexingtonian Megan Moloney learned Irish dance as an adult, proving that it isn't just an activity for children. It's a perspective she brings to her teaching style – pairing the fun of learning dance, with the thrill of performing and competing. Instructor Mary Beth Taylor, the child of an Irish mother from Galway and a father from Idaho, grew up dancing in Georgia and Washington, D.C, but has been living and dancing in Dublin, Ireland, since 2002. Teaching partner Courtney Jay holds a Bachelor of Arts in Irish Music and Dance with first class honors from the University of Limerick.
Megan and Mary Beth first crossed paths in Washington, D.C. when they danced together at the Culkin School. More recently, Mary Beth has traveled to Lexington regularly since 2018 to lead an Irish Percussive Dance Workshop each January. Courtney became a partner in 2022.
Megan Moloney, TMRF – Director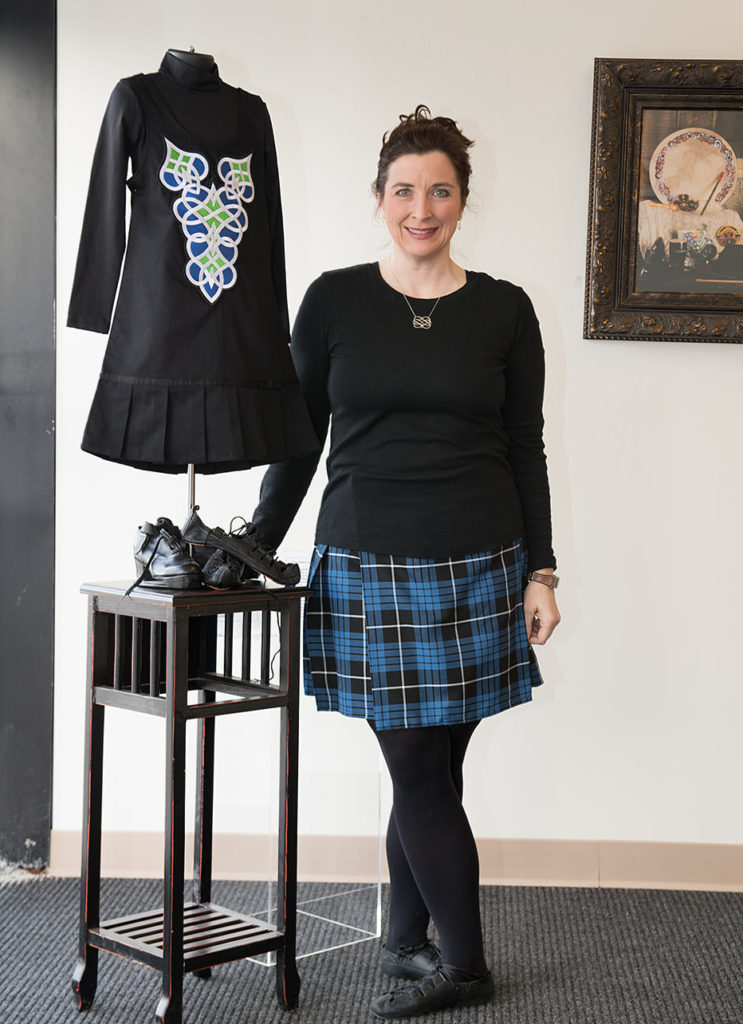 Academy director Megan Moloney studied Irish dance for nearly 20 years in the Washington, D.C., area with the Culkin School of Traditional Irish Dance; began teaching adult students and teams nearly 20 years ago; and achieved TMRF certification with the Irish dancing commission in 2010. The adult teams Megan coached achieved 23 regional championship ceili titles between 2004 and 2015, and, in 2009, the North American national championship. In addition to teaching and competing, Megan has danced — and had her choreography performed — in Kentucky and across the nation's capital, including at the Kennedy Center, Strathmore, the Annapolis Irish Festival and Shamrockfest. Megan was also a dancer with the New Century American Irish Arts Company and her favorite performances include dancing onstage with Carbon Leaf and Scythian.
In July 2021, Megan was one of 23 teachers worldwide selected by Irish Dancing Magazine for excellence in teaching.
Megan serves on the board of directors as the president of the Bluegrass Irish Society and chair of the Lexington St. Patrick's Parade. For the last three years, Megan has volunteered with the Irish Dance Teachers Association of North America Scholarship Committee and recently served as a member of the International Working Group for CLRG. She has also served on the board of directors for OperaLex and as a member of an advisory group for the Women's Heart Health Program for the U.K. Gill Heart Institute. She is currently serving as an advisory board member for the Catholic Education Opportunities Foundation in Lexington.
---
Mary Beth Taylor, TCRG – Instructor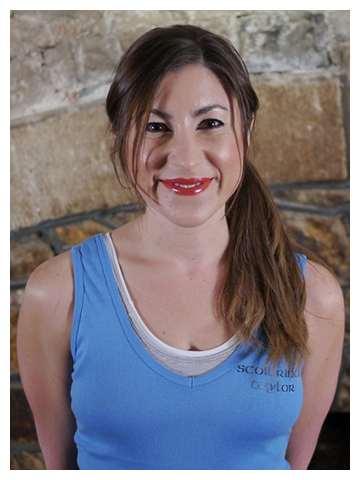 Mary Beth Taylor is a sean-nós dancing teacher and a registered Irish dancing teacher with more than 20 years of experience. The director of Irish and Sean Nós Dance Dublin, Mary Beth has danced all over the world, having taught and performed throughout Ireland, the USA, Canada, France, Germany, Denmark, Sweden, Cyprus, Albania, Mexico, New Zealand, Russia, and Oman. A two-time recipient of the Arts Council of Ireland's Deis award, Mary Beth is the creator of two popular instructional DVDs, Sean-Nós Dance for Everyone and Sean-Nós Jigs for Everyone.
Mary Beth is deeply involved with charity fundraising through performance. Since 2012, she has hosted bi-annual dancing and music events in aid of The Alzheimer Society of Ireland in honor of her mother, Philomena, who suffered from early-onset dementia and Alzheimer's disease for many years.
---
Courtney Jay, TCRG – Instructor
Courtney Jay has been dancing for 25 years. She trained for 12 years under Sheila Stevens and she found her love for Irish dancing and passion for teaching. Courtney decided to attend college at the University of Limerick where she earned her BA Irish Music and Dance with first class honors. While in Ireland she studied under the Fleming-Ball School of Irish Dance where she became Munster Champion in both solos and teams, an All-Ireland, Great Britain, All-Scotland and World Championship medalist, and top 10 finisher at the North American and All-Ireland championships. In 2014, Courtney founded and still directs Scoil Rince Luimni ("Limerick School of Dance" in Irish) in Connecticut. She gives workshops in Irish dance choreography around North America. For Courtney, Irish dancing has always gone beyond steps and technique; Irish dancing helped her grow as a person and in character. She hopes her students learn to love dancing, make life-long friends, and strengthen their character.
---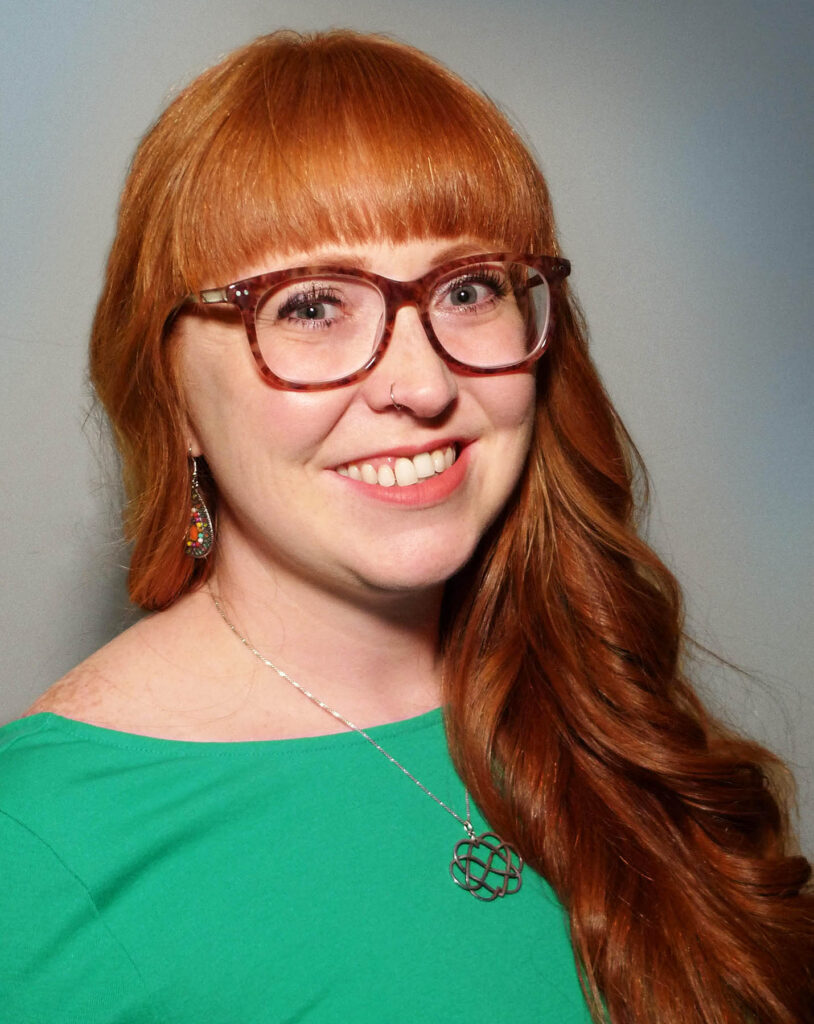 Megh Jennings, Assistant Instructor
Megh Jennings has more 30 years of dance experience, with strong roots in classical ballet, training in Kentucky, Florida, Ohio, Virginia, California and England through her childhood and young adult life. She joined Bluegrass Ceili in 2017, fulfilling a childhood dream to be an Irish dancer. She shares her love of dance with her son, Oliver, a Bluegrass Ceili student, and her partner, Graham, who joyfully cheers on our dancers. Megh is very proud to be a part of Team BCA, and is grateful for the opportunity to share her love of dance with the Central Kentucky community.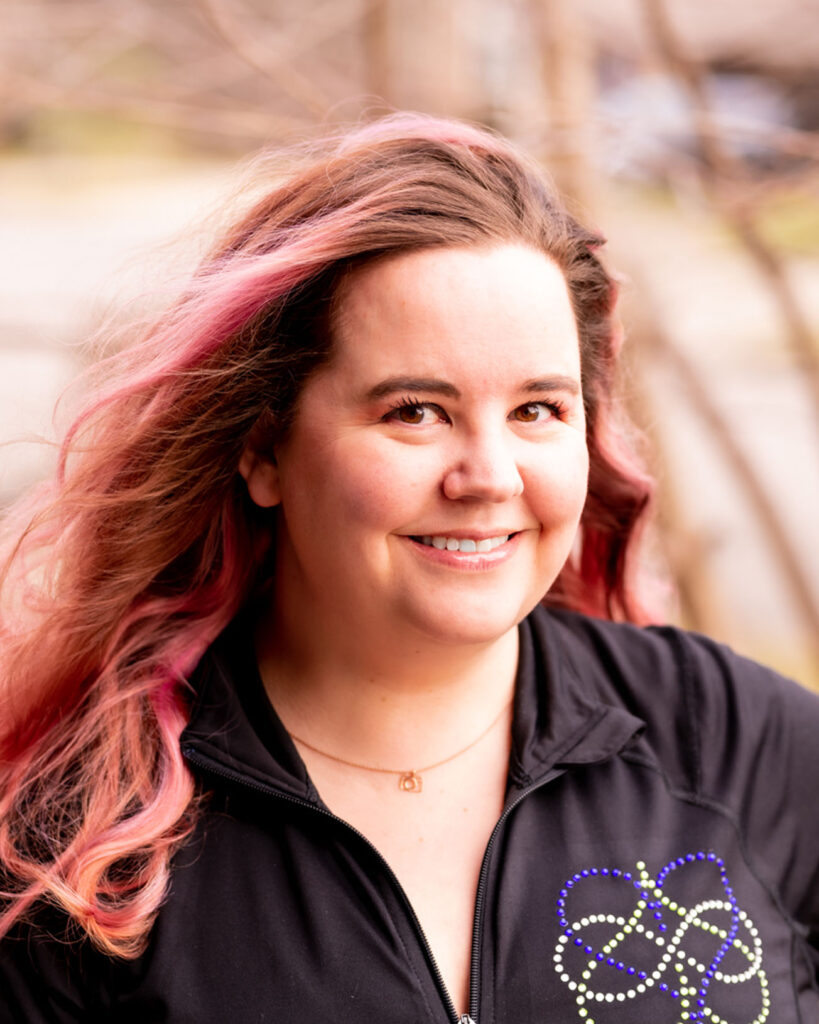 Jessica McClure, Assistant Instructor
Jessica McClure brings more than 30 years of dance experience to Bluegrass Ceili, having studied tap, jazz and ballet since she was two. She was a competitive tap and lyrical dancer until she found the world of Irish dance in her early twenties. Jessica joined Bluegrass Ceili Academy in 2017 and is thrilled to re-enter the world of competitive dance competing with Team BCA throughout Kentucky and Ohio. A lifelong resident of Lexington, she lives with her husband and son who support her and as she enjoys working with the community, and sharing the Irish culture.
Bluegrass Ceili Academy: Experience you can trust
Bluegrass Ceili Academy is certified under An Coimisuin le Rinci Gaelacha (CLRG), the Irish Dance Teachers Association of North America, the Irish Dancers Teachers Association of Mid-America and is a member of the Irish Dance Teachers Association of North America Southern Region.
All academy faculty members have completed a background screening and vetting process by CLRG, as well as additional training from SafeSport and the Kentucky Cabinet for Health and Family Services.