Do what makes your heart sing… and take a dance class!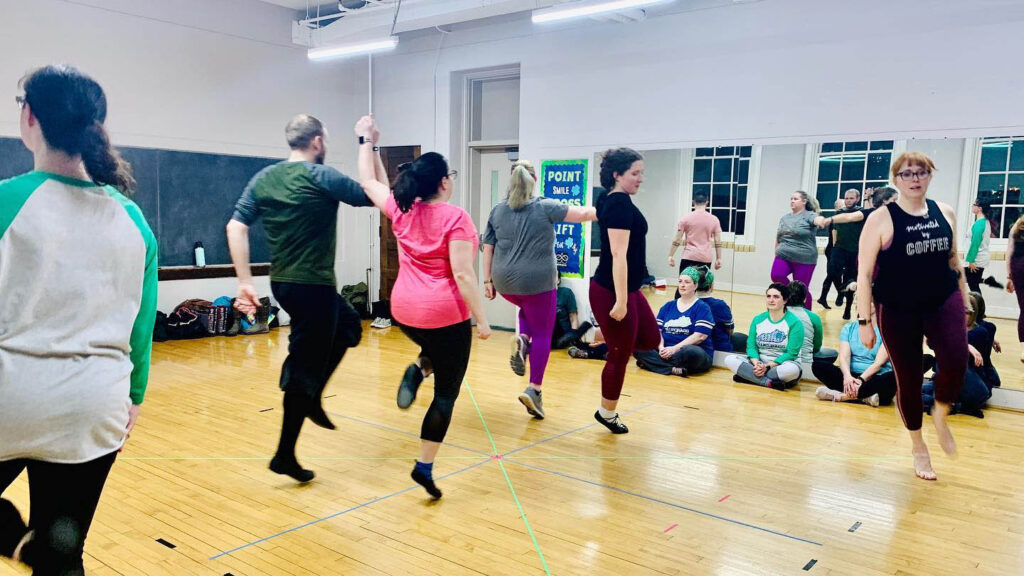 The Bluegrass Ceili Academy offers Irish dance classes in Lexington through Artworks at the Carver School, a community cultural arts facility operated by Lexington Parks & Recreation. Through its Kiddie Kapers & Company Dance Program, we teach both children and adults. Classes focus on group choreography — known as ceili dancing — for fun, for performance and for competition. See what classes are available during our next session.
Classes in 2021-22
In-person classes
Our in-person Irish dance classes in Lexington have transitioned from focusing on ceili — or group — dances to include more individualized instruction, though we're looking forward to resuming ceili instruction in Spring 2022
Dancers are focusing on the fundamentals of Irish step dancing and learning material for the CLRG Grade Exams. Our next session of in-person classes is tentatively scheduled to begin March 1. Register online now.
Virtual classes
Adult in-person classes are also offered virtually, with instructors demonstrating and reviewing students' individual progress via Zoom. Our virtual classes also focus on learning material for the CLRG Grade Exams as well as sean-nós choreography.
Dancers from Lexington, Central Kentucky and across the country have participated in our virtual program.
Styles of Irish dance
Bluegrass Ceili Academy dancers learn a wide range of traditional Irish dance styles, including:
Ceili dancing
Step dancing
Sean-nós dancing
Set dancing
Ceili dancing
A primary focus of our program, ceili dancing is the traditional group dancing native to Ireland. The dances we teach are those generations-old dances handed down through the years as well as original choreographies.
Dancers can also participate on Bluegrass Ceili Academy's performance and competition teams (once ceili competitions resume).
Step dancing
Traditional Irish step dancing includes instruction in two different styles of dance — soft-shoe and hard-shoe. Our dancers learn material geared towards achieving levels of proficiency on the CLRG grade exams.
Sean-nós dancing
Sean-nós — translated as "old style" — dancing is a percussive style of dance focusing on rhythm and fostering improvisation. Sean-nós instruction is available virtually from Dublin for improvers and advanced students.
Set dancing
In partnership with the Bluegrass Irish Society and the greater Lexington Irish community, Bluegrass Ceili dancers participate in the local set dancing club. When it resumes, the club meets monthly and instructors rotate teaching different traditional group dances, called "sets."
---
Check out some photos of classes at Bluegrass Ceili Academy
[ngg src="galleries" ids="2″ display="basic_thumbnail" thumbnail_crop="0″]