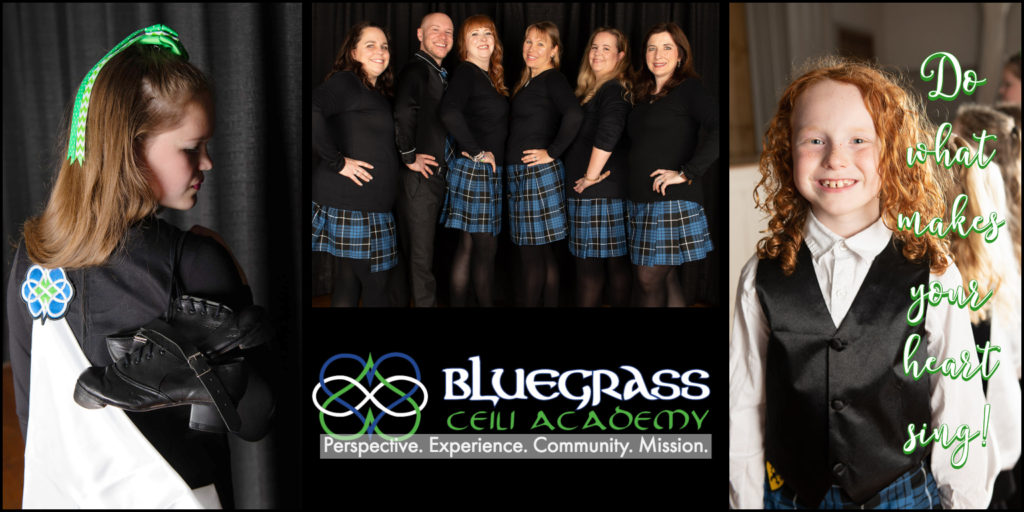 "Do what makes your heart sing." At Bluegrass Ceili Academy, Irish dancing does just that – makes our hearts sing and our spirits soar…and we want to share that with you! If you've been thinking about trying something new and different — for yourself or your child — stop by our August or September open house events to learn more about Irish dance classes in Lexington with our community-based program.
Our Irish dance classes for both children and adults focus on a few things: fun, friendship, art and sport. Here are 9 reasons you'll want to join us!
1. Perspective matters
The love of dance and music knows no age limit. Academy director and fifth generation Lexingtonian Megan Moloney learned Irish dance as an adult, proving that it isn't just an activity for children. It's a perspective she brings to her teaching style – pairing the fun of learning dance, with the thrill of performing and competing.
2. Irish dance gets you moving
Our classes are a great way to get some exercise every week. We warm up with Irish dance basics — foot placement, turnout, movement — and work our way up to choreography. Don't worry if you haven't danced before — if you can skip (think back to elementary school gym class!) you already have half of our basic step down.
3. Our Irish dance classes in Lexington are a best buy
We are offering two class sessions this year through Artworks — one in the fall and one in the spring. Take both sessions and pay only $120 for the whole year, or $60 for each session. Parks & Recreation offers scholarships and reduced fees for programs and activities to families who qualify for financial assistance. Find out more on the Parks & Rec website.
4. Showing up for our community matters
Being an active part of our community is part of who we are. We take our love of Irish dance out on the town: to local community events, regional festivals and even our local Irish bars. Irish music is toe-tapping, lively and lots of fun to dance to –so you'll find us out supporting our local Irish musicians at Central Kentucky's pubs and showing off our steps while doing so.
5. You don't have to be Irish to learn Irish dancing
We get asked all the time if you have to be Irish to learn Irish dancing. Absolutely not! All you need to be is willing to have a little fun, learn a little dance and make a few friends!
6. St. Patrick's Day is a major holiday
St. Patrick's Day isn't just a throwaway holiday when you're an Irish dancer! Our Irish dance classes in Lexington will get you ready to step out and dance a jig or three at locations throughout the community next March, including the annual Lexington St. Patrick's Day Parade and Festival in downtown Lexington.
7. Take to the stage — big or small
Bluegrass Ceili Academy is dedicated to promoting traditional Irish dance by providing a supportive learning environment for dancers of all ages and skill levels. Once you've mastered the basics, we encourage our dancers to step out onto the stage and show them off. Whether is a small event, a local festival, a parade or a feature performance or recital, we want to give you the confidence you need to perform what you've learned in class.
8. Experience the thrill of victory
If testing your skills is something you enjoy, our competitive Irish dance teams give you the opportunity to work together with other dancers towards a common goal. Our teams compete at the local and regional level, striving to do better each time, all while having fun with other Irish dancers.
9. Irish dance friends are like family
The friendships made through Irish dance are built on mutual goals and mutual respect. When, as a group of dancers, or a team, you all work towards the same goal, the result is not only a polished performance or winning team, but friendships that can last a lifetime.
At Bluegrass Ceili Academy and through our Irish dance classes in Lexington, we hope to build a community of dancers and families who enjoy the dance, music and culture of Ireland… and have a lot of fun and good times along the way.
We are more than just a dance school. We're a community.
Perspective. Experience. Community. Mission. It's what matters.
What does that mean?
It's the way we look at things, the experience we bring to the classroom, it's building and giving back to our community, and living our mission by providing a supportive learning environment for dancers of all ages and skill levels. If that matters to you, join us this fall for classes with Bluegrass Ceili Academy.
Register for Irish dance classes in Lexington!
Online registration for Irish dance classes through Bluegrass Ceili Academy begins Wednesday, August 22, 2018, at noon and will continue until all slots fill or classes begin. Go here to set up an account for online registration. You can create your account before registration opens.
You can also register in person, by phone or by mail beginning August 22.