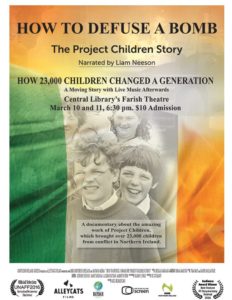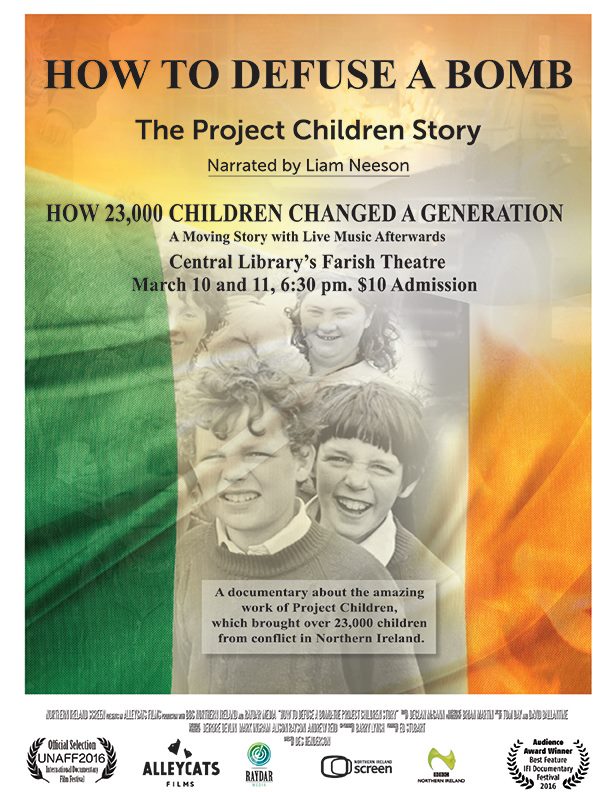 Bluegrass Ceili Academy is proud to be a local sponsor of the Kentucky premiere of an award-winning documentary.
We're proud to join Failte Irish Shop, the Bluegrass Irish Society and the local event coordinators in bringing to you an evening of exceptional Irish entertainment at the Farish Theater in the downtown Library on Friday, March 10 and Saturday, March 11.
Join us for a screening of "How to Defuse a Bomb: The Project Children Story" and a performance by Gypsy's Wish with Irish folk musicians Declán Mac Giolla Cheara and Andrew John Toman. The screening and concert coincide with Lexington St. Patrick's Parade and Festival in downtown Lexington on March 11.
Join Bluegrass Ceili Academy for a night of movies and music
"How to Defuse a Bomb" looks back at the work of the Project Children organization, established in 1975 by NYPD bomb squad member Denis Mulcahy and his brother Pat, which allowed more than 23,000 children from Catholic and Protestant backgrounds to escape the "The Troubles" and live together in the United States over the course of a summer. The children's summer project ran for 40 years, before finishing last year. The documentary, narrated by Liam Neeson, first aired on BBC Northern Ireland in December 2016. The Lexington screening is one of the first overseas viewings of the documentary.
Following the screening, stay for a concert performance by Declán Mac Giolla Cheara and Andrew John Toman, known together as Gypsy's Wish. As a youth, Declan was a participant in the Project Children program and his interest in playing music began while spending a summer with his host family in the U.S. Gypsy's Wish, along with Bluegrass Ceili Academy, will also perform at the Lexington St. Patrick's Irish Festival on Saturday, March 11.  More details on that here.
WHEN: Friday, March 10 and Saturday, March 11, 6:30 pm, The Farish Theater, Lexington Public Library – Central Library, 140 East Main Street
TICKETS: Admission is $10 and seating is first come, first served.
MORE INFO: Visit the Facebook event page. 
Local sponsorship of the Project Children Documentary screening and concert is provided by Failte Irish Shop, Bluegrass Ceili Academy and the Bluegrass Irish Society.